Posts Tagged 'Tech Tip'
Nov 23 2022
Do you want to know how to download large files from Google Drive? It's not hard, but it's also not obvious. And it takes a bit of patience. Here is a DaddyTips Tech Tip.
Recently I got a file that was over 2 GBs in size. I'm a standup comic and frequently deal with large video files. This one was from a longer set and was higher quality and was therefore bigger. I tried downloading from the browser and kept getting an error message.
Read more »
Jan 16 2018
In January of 2016 I wrote a post about bad passwords and why you should teach your kids to use good passwords. Guess what? That tip is still relevant.
This is still true. In some ways it is perhaps even more true. Why? Because there are more devices and services in our lives. I have numerous networked thingies in my house, and it feels like I add at least one new account every week. EVERY COMPANY wants you to have an account with their service. Why? Marketing. Selling. AND THE ILLUMINATI. Mostly the first two. BUT MAYBE EVEN THE THIRD. Bottom line: more accounts, more devices, more passwords. Is it annoying to come up with unique passwords for every frickin' new account? Of course it is! Do you have to do it in order to avoid problems? Yeah. Yeah you do.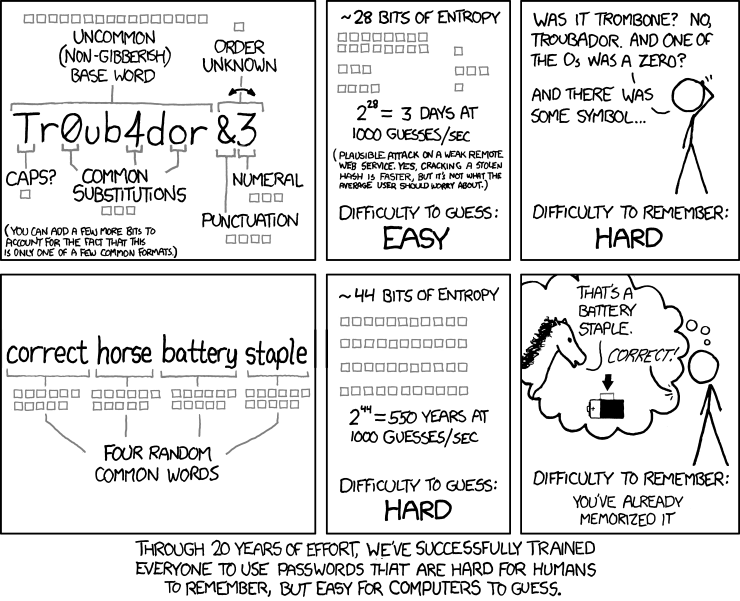 Here's the extremely brilliant webcomic XKCD's version of how to handle this problem. The problem with this? Don't use this password because it's in a comic. HOWEVER! The good folks at XKCD made a password generator you can use.
Whatever you do, don't use Star Wars themed passwords. With the release of The Last Jedi, I'm gonna guess more than a few people are going to be using "Kylo Smoak" or something even more cleverer.
Bottom line: use hard to guess passwords. If you can't even remember it, all the better.
Related articles (Note: These are offsite links; DaddyTips takes no responsibility for outside content.)
Dec 29 2017
I've been podcast (listen!) and the episode I recorded today was too loud. My software of choice is Audacity because it sells for my favorite price – FREE dollars. Plus it works, and has a lot of high-end features. For example, you can fix it if your volume is too loud. That's today's DaddyTips tech tip.
Audacity has a tool called the envelope tool. It looks like this:
Hopefully you can see the arrow better than me. (I'm colorblind.) If you can't, it's the thing in between the Selection Tool and the Draw Tool. If you hover your mouse pointer over each tool on the toolbar it tells you what the tool is called. Ah, screw it. Here's another screenshot, but this time the envelope tool is circled.
Anyway, what you do is click that tool. That will select your track. Then you can drag a little bubble up and down and that will reduce or increase the volume of the track. There is probably a way to do just a section of the track but I don't know what that is.
I got this info from WiredPen, a website by the extremely talented Kathy E. Gill, who is clearly cooler than me because she's wicked smart and she rides a motorcycle. (Seriously, I mean that. She seems very cool.) Without this helpful tip my podcast would have been unlistenable.
Below are my podcast episodes. The one from 12/29/17 is here.
Listen to me early and often, especially now that I know how to fix the volume.
Aside: these were the suggested tags for this post. Some make sense and are used. Many of them, however, are bizarre.
Happy New Year!
h/t WiredPen.com by Kathy E. Gill
Jun 27 2016
Having trouble getting a stylus unstuck from a 3DS slot? Me too! Not my 3DS, my kid's. I don't have a 3DS.
You know what? I did it! It's a grand day in DaddyLand. How did I do it? Read on, true believer.
So. Something is stuck in the stylus slot of a 3DS, DSi, or any device that uses a stylus. (I would say Palm Pilot but then you would think I was old. Oh wait…)
I was having no luck using a bent paperclip.
However! After deciding that my methods (which also included a pliers, screwdriver and a strange tool from my computer fixing kit) were insufficient, I turned to the Interwebs. There I found a post on the site fixya that suggested… a screw.
Success!
Here's what I did that worked: I gently (VERY GENTLY, the opposite of writing in all caps) inserted the screw into the slot (oh, behave) and twisted, again, very, very gently. The goal is to get whatever is stuck unstuck, not break the device. That would be bad. After a bit of twisting and a bit of pulling — all very gentle — I managed to get the thing out of the slot.
Hopefully this tip helps any parents stuck (pun intended) trying to get a stylus or other foreign object out of their child's Nintendo device.
thank you to the fixya users at this post
Related articles  (Note: These are offsite links; DaddyTips takes no responsibility for outside content.)
Jan 19 2016
This article from ZDNet about the worst passwords of 2015 reminds me to remind you that it's important to teach your children about proper passwords.
What is a proper password? Pretty much anything not on ZDNet's list.
No, we're not calling you a dummy. But computer security is important, and it's never too early to start talking to your children about it. Well, maybe toddler age is too young. But as soon as they have any sort of online account, they need to understand that importance of strong passwords.
(Aside to parents of younger children: don't be surprised if your kid comes home from school with an account on a website you've never heard of. Nothing nefarious. But a lot of educators are using online resources these days, and many of these sites require a login, and therefore… a password.)
Not sure what we mean by bad passwords? Here are a few examples.
Good stuff like 123456. Or the still popular password.
Apparently, Star Wars themed passwords became popular last year, because of that movie you probably heard a thing or two about. (Something about a force waking up? You know the one I mean.)
Anyway, bottom line, and our DaddyTip for today is to teach your children to use good passwords. For examples of bad passwords, hit the link below.
Many of the new entries are dictionary-based words, but many of the passwords from the year prior are increasing in popularity.
Source: These were the worst passwords of 2015, and they're only getting worse | ZDNet
Related articles (Note: These are offsite links; DaddyTips takes no responsibility for outside content.)
Jul 20 2015
From ZDNet, a tip: update Windows now.
Seriously. I don't use Windows anymore (see the image above), but apparently this is one of those really bad things that has the potential to screw up your computer.
The flaw, which also affects Windows 10, allows a hacker to take over a machine.
Does that sound fun to you? It's doesn't to me. "All versions," according to ZDNet, means "Windows Vista, 7, 8, and 8.1" and based on the quote above, Windows 10.
I haven't used Windows regularly since XP Pro. That was a fine OS. It helped that I bought a Thinkpad, one of the last models made by IBM before they sold that part of their business to Lenovo, and the computer came with very little pre-installed crapware. Crapware, for those of you unfamiliar with the term, is stupid software that comes installed on many Windows computers. Usually all the stuff does is cause your OS to slow to a crawl and make you want to throw your computer out the window. (No pun intended.) I have spent… let's see… carry the 1… a boat-load of hours uninstalling crapware from the PCs of friends and family.
Anyway, this isn't a crapware problem, at least not as far as I can tell. Assuming Windows Vista/7/8/8.1/10 still work somewhat similarly to Windows XP, updating your OS should be fairly easy. As Nike used to say, just do it.
Source: Microsoft releases emergency patch for all versions of Windows | ZDNet
Related articles (Note: These are offsite links; DaddyTips takes no responsibility for outside content.)
Apr 26 2015
Starting with some version of Apple's iTunes software, the song title will pop-up over whatever you are doing. If you're like me and can be distracted by, well, everything, this is annoying.
This is one of those features that was never necessary, or at least shouldn't be turned on by default.
Luckily there is a simple way to turn it off. From Apple's Support website:
Click iTunes -> preferences -> General -> Under "Notifications", uncheck "when song changes"
What a relief!
Here's some screenshots for ya:
BEFORE (GRRRR):
AFTER (YAYYYY!):
Thank you carpetfiber101 for the tip.
new song pop up window in iTunes | Apple Support Communities.