Posts Tagged 'black widow'
May 08 2015
Now that Avengers: Age of Ultron is finally here, and I've seen it (twice), I can start reading about it until my eyeballs fall out. This page will have an an ongoing list of links to some of what I've read that I found interesting.
UPDATED 5/11/15 (new links after the break; you can tell they're new because they say NEW LINK.)
As you know, I frickin' LOVED The Avengers, the first one. To say that Avengers: Age of Ultron isn't quite as good as the first film is like saying I'm shorter than Shaquille O'Neal. Or, to ever-so-slightly borrow a joke from the movie, that this blog post will be shorter than a Eugene O'Neill play. Bottom line: it was a lot of fun, Joss Whedon did a nice job of balancing all of the myriad demands of a film with a ton of characters and future Marvel Cinematic Universe movies to promote, and I've already seen the movie twice and would gladly see it again.
As expected with a summer blockbuster, especially a follow-up to a film as great as The Avengers, the Interwebs are filled with articles and blog posts and charts and click-bait about all things Ultron. I went on Rotten Tomatoes planning to read a few reviews. I got as far as one before being sucked into a rabbit hole (maybe I should say tesseract instead) of Age of Ultron related topics.
Oh, the obligatory Spoiler Alert from this point forward. I'm not going to bother watching what I say about the movie, although this isn't a review and odds are I won't reveal anything particularly important. But if you haven't seen the movie yet and prefer to do so without knowing anything about what happens, stop reading now. Then come back. Don't worry. We'll wait. Read more »
Apr 17 2015
Ah, the 70s. Rich with history. Bell bottoms. Missed opportunities.
This is not one of them.
This photo is from Comic Book Resources (aka CBR), via The Mary Sue, both excellent websites for all things nerdy. Maybe I should say "all things formerly considered nerdy", since when The Avengers movie makes $1.5 billion, it's an Avengers world now, which kind of means there are a lot more nerds out there, and therefore how nerdy is it really to be into this stuff?
Answering my own question, caring at all about the fact that David Bowie's ex-wife Angela Bowie (about whom The Rolling Stones' song "Angie" may or may not be about, although that's what most people think, including me until I just Googled it — trivia!) at one time "owned the TV rights to Daredevil and Black Widow", according to CBR, is pretty nerdy.
This is a picture of the costumes. It is very 70s.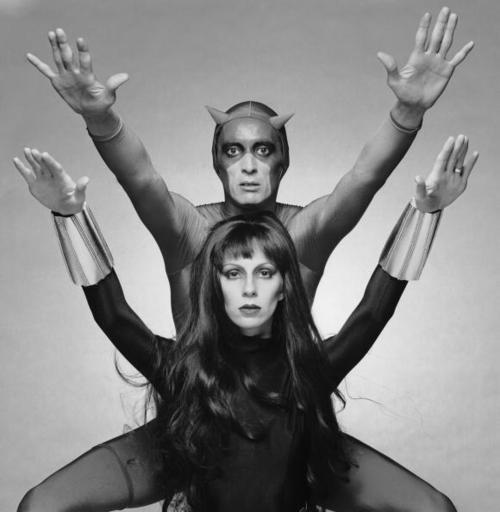 Considering how good the Netflix Daredevil series is, it's probably for the best that this show never happened. Then again, there was 1988's The Incredible Hulk Returns, which featured Hulk, Thor and Daredevil. That wasn't particularly good (although of course I watched it), but it didn't ruin the current incarnation. (Which really is quite good. You should check it out. Not with your kids, though, unless you have older kids. I'll write more about it at some point.)
Perhaps it would have been interesting to see what Angela Bowie would have done with the role of Black Widow, since as a CBR commenter points out, "Bowie's not really the problem in those DD/BW shots, though. That Daredevil costume is ridiculous."
Indeed it is. But… the 70s. Even the entertainment that never happened was fun.
Comic Book Legends Revealed #440 – Page 3 of 3 – Comics Should Be Good! @ Comic Book ResourcesComics Should Be Good! @ Comic Book Resources.
via The Mary Sue
Related articles (Note: Some of these are offsite links; DaddyTips takes no responsibility for outside content.)