Posts Tagged 'George Lucas'
Jul 15 2016
So you may have heard about Rogue One: A Star Wars Story, the latest Star Wars movie. It comes out in December. Here's the trailer. Prepare to feel nostalgic.
Am I right or am I right? They do a damn fine job of appealing to both us old folks (ahem) and the new generation of Star Wars fans. This particular video has both the "isn't it cool that we're making a new Star Wars movie?" and the actual trailer. The movie itself looks pretty good. I hope it is since I'll wind up seeing it anyway.
Check out Star Wars stuff at Amazon.
Related articles (Note: These are offsite links; DaddyTips takes no responsibility for outside content.)
Apr 08 2008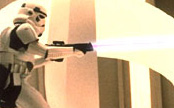 Terrible opening paragraph: It's a storm in a Stormtrooper's helmet. Lawyers for George Lucas' Lucasfilm Ltd. and a British prop designer faced off in London's High Court Tuesday over rights to the molded white Stormtrooper uniforms from the "Star Wars" films.
On the one hand, Lucas has enough money, right? But on the other hand you have to enforce your copyright/trademark/whatever everywhere or you risk losing it.
But can't we all just get along?
image: StarWars.com