Posts Tagged 'Brazil'
Aug 18 2016
If you've been following the Rio Olympics at all, you likely have heard about Ryan Lochte and his teammates being robbed at gunpoint.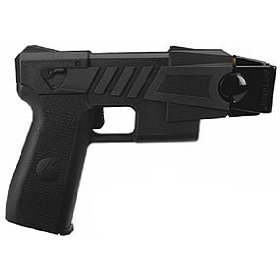 (Note: the photo above is a taser. It was in the DaddyTips image library. It has nothing to do with the story. But it is a gun, albeit not a deadly one.)
Unless it never happened. Which is not what we're saying AT ALL. This is just reporting what others have reported and adding some musings about the "Dad is my Spokesperson" thing.
According to the AP, two of Lochte's teammates were pulled from a plane and had their passports seized. That seems odd to me. Here's some details:
USOC spokesperson Patrick Sandusky said Jack Conger and Gunnar Bentz were released by local authorities after being pulled from a flight at the Rio de Janeiro airport, with the understanding that discussions would continue amid uncertainty over what truly took place during a late outing the night Olympic swimming wrapped up at the Rio Games.
Fellow teammate Jimmy Feigen also plans to talk to officials, Sandusky said, as he navigates a judge's order that keeps him in Brazil. The order similarly called for Lochte's passport to be seized, but the star swimmer had already returned to the United States before authorities could enforce the decision.
A lawyer for Conger and Bentz said Thursday that they won't be allowed to leave Brazil until they provide testimony to investigators. The swimmers didn't speak to reporters as they left the airport, shuttled away by a black car waiting outside. They departed for an unspecified location in Brazil and had yet to testify, said attorney Sergio Viegas. (emphasis added)

Kinda bizarre, right? Is it possible that they made the whole thing up? Apparently accounts of the details of the event have changed, which is less surprising when you read that Lochte and his teammates were, according to published reports, inebriated. What is very strange to me is that the athletes aren't being allowed to leave the country. That feels punitive.
Here's what Lochte's father Steve had to say (this is why I'm writing about the whole thing on DaddyTips):
Lochte's father told The Associated Press by phone from his Florida home that his son called him Tuesday after arriving in the United States. The 32-year-old swimmer was going to pick up his car and buy a new wallet to replace the one that he said was stolen.
"I'm just happy he's safe," Steve Lochte said. "It was an unfortunate experience for him and the other three. I don't know what all the controversy is. They were basically taken out of the taxi and robbed. The main thing is he's very lucky that he's safe and that all they got was his cash and wallet."
So Ryan Lochte was allowed to leave Rio.
A brief word about the whole "Dad as Spokesperson" phenomenon.
This is something that I continue to be fascinated by. Why does a 32-year-old need his father to speak on his behalf? Athletes in particular seem to have their Dads talk for them, especially in situations like, say, the NFL draft. We saw that in Jerry Maguire; the father of someone Jerry is trying to represent is clearly running his kid's life. In that case it makes a bit more sense. The kid is young, impressionable, possibly not that great with money. That was the case in Jerry Maguire. It's probably a little less true today. But Dad as head of the Athlete Brain Trust? OK. I can work with that.
It's "Dad as Spokesperson" that I get stuck on. It happens more often in sports than anywhere else, but it also occurs in entertainment. At a certain point, I would think that one wouldn't want want to have one's parents speaking for you. (I apologize for that sentence.) It just feels weird to me. I love my kids but I want them to be able to speak for themselves, especially at the age of 32.
This should in no way be construed as a dig at any athlete, nor should it be seen as shedding any doubt on the story that U.S. Olympic athletes were robbed in Rio. The story is bizarre and doesn't seem to be getting covered the way I would like, which is to say that this seems like a straightforward series of events — guys get robbed at gunpoint, police investigate, they get to move on. People not being allowed to leave the country? That's odd. Bottom line: we're just reporting what other outlets have reported, outlets with actual reporters doing journalism. If you want to read more about the whole mess, there are links below.
Three American Olympic swimmers planned to meet with Brazilian law enforcement Thursday to discuss a reported robbery targeting 12-time medalist Ryan Lochte and his teammates, a U.S. Olympic Committee official said.
Source: Ryan Lochte's swim teammates to meet with authorities on robbery – Chicago Tribune
Related articles (Note: These are offsite links; DaddyTips takes no responsibility for outside content.)